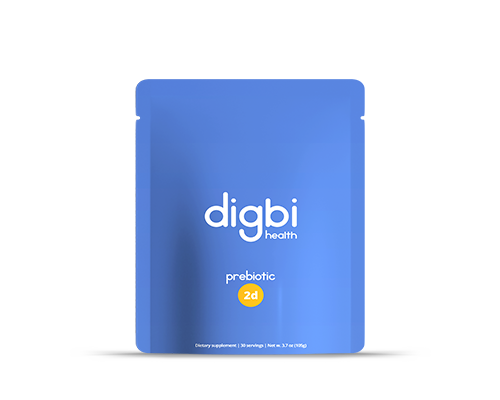 Prebiotic 2D
This prebiotic blend is proven to improve intestinal and colon health by promoting the growth of beneficial gut microbes. It helps to relieve diarrhea, improve transit time, and promote gut regularity. It helps manage appetite and blood sugar levels, and may aid weight loss.
Diarrhea relief

- Clinically proven blend of prebiotic fiber and high-quality resistant starch.

Helps digestion

- The combination allows for the prebiotic fiber to pass through the colon at an optimal speed.

Mood enhancer

- Ashwagandha is a plant traditionally used in Ayurvedic medicine to promote physical and mental well-being.
Note:

In checkout, please use the email address you use to log in to the Digbi mobile app.